The Royal Philatelic Society of Canada (RPSC) is Canada's national society for philatelists (stamp collectors, enthusiasts and aficionados). The RPSC speaks for all Canadian collectors at provincial, federal and international levels of philately and is a member of the Fédération Internationale de Philatélie (F.I.P.) and the Federation Inter-Americana de Filatelia (F.I.A.F.).


Benefits of Membership


Application form

Code of Ethics

By-Laws / Strategic Plan


Records of Decisions

Press Releases
---


Convention of The RPSC
ROYAL *2021* ROYALE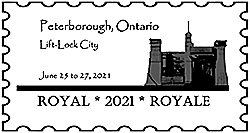 June 25 - 27, 2021
Peterborough, Ontario, Canada

Main Hotel and Banquet venue:

Holiday Inn® Peterborough Waterfront
150 George Street North Peterborough, ON
---
Other upcoming shows:
---
Let's Talk Exhibiting
A regular column from
The Canadian Philatelist
discussing techniques and tips for exhibitors at local, regional and national stamp shows.
Sep 22, 2016
The new 7th edition of Manual of Philatelic Judging and Exhibiting and its implications to Judges and Exhibitors [1.1Mb Adobe PDF] Presentation given at PSSC September 21, 2016 by Ed Kroft, Rodney Paige, and Sam Chiu.


The Canadian Philatelist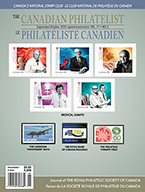 Searchable Database
Search (and view) virtually every issue of The Canadian Philatelist.
Click here.
Members: login to view all issues.

September 16, 2020
The September-october 2020 Canadian Philatelist has been posted on-line; members can view after logging in!
August 26, 2019
For Chapters: Mentoring New Collectors
Nov 1, 2010
Soaking Self-Adhesive Stamps
Jan 27, 2008
Estate planning resources.

Philatelic Links