Estate Planning and Advice for the Disposition of Collections
In the March/April copy of The Canadian Philatelist, the MESSAGES from the National Office column states that there would be new information on The RPSC website in January, to assist members in Estate Planning Advice and the Disposition of Collections. What you will find below, is the first of a series of resources posted on our website to assist members who are, or will at some point in their collecting career, be dealing with these challenges.

The first article is a short, ten-step check list that all collectors can contemplate and perhaps start to think about initiating their own unique action plans. Joel Ruimy, a member of the North Toronto Stamp Club, was asked to write this piece for The RPSC website as a quick read to stimulate thinking. Recently concerned about his own mortality, Joel took the challenge and created an easy read, full of excellent ideas to get you started.
Click here for Joel Ruimy's article.
If you need a more in-depth review of estate planning procedures, have a look at the five-page article written by three members of the Philatelic Specialists Society of Canada (PSSC). It will assist those collectors who have more substantial collections and need more information.
Click here for the PSSC article.
And remember ….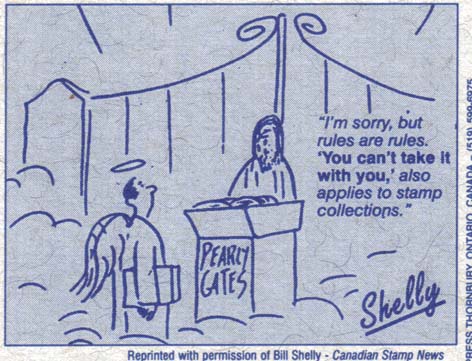 Permission to use this cartoon in not-for-profit philatelic writings was given
by the artist Bill Shelly, Canadian Stamp News in April 2000.

Watch for future additions to this collection of resources as the National Office continues to find material that we believe will benefit our members.

The National Office wishes to extend sincere thanks to Joel Ruimy and the PSSC for their permission to put these articles on The RPSC website. They may be copied and distributed with "reckless abandon" provided the proper credit to the authors is clearly stated on the document.
Further inquiries may be directed to the National Office at: 416-921-2077 or 1 888 -285-4143. or e-mail.