The correct URL for logging in is:
https://rpsc.org
---
Members login to The RPSC website for "member's only" features which include:
view all issues of The Canadian Philatelist, including the last five years
update member's profile including address information
access to a Member's link 'directory'
You login to the site on our
Home Page
. Here is an image of the login section found near the top right of that screen: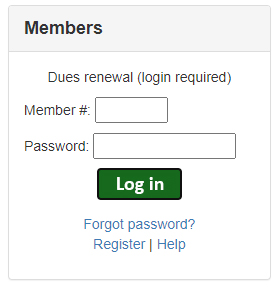 Your member number is only the digits found on your Canadian Philatelist mailing label (see sample image below). The password is supplied to you during a one-time on-line registration process, which you can then change to one of your chosing.

As an RPSC member, have you registered with this site? No, click here to register.

Have you forgotten your password? Yes, click here to ask for your password.
Your member number can be found on your Canadian Philatelist mailing label (on the third line, after your renewal date). If you cannot remember your member number, use the information on your mailing label as a reference guide.
NOTE: the id number on your CP mailing label might be missing the last digit (this occurred frequently on labels printed in the past - a "Login failed" message could be an indication of this).
Mailing label example (with "I-12345" as the member number example):
4/7 XX137(W) 334 ** L0J 9Z0 MISSISSAUGUA ON
FWD
2017 DEC I-12345
Mr. T. John Doe
123 Main Street
Anywhere YZ A1A 1A2
For purposes of registering or logging into our on-line database, only use the digits of your member number. Do not use the preceding "C-", "I-", "L-", etc.
Virtually every "problem" we receive is the result of incorrect information being supplied by you, the member. Please double check the information you are supplying here.
Every once in awhile a temporary password is generated by the system that causes login problems. These can be manually corrected by the webmaster once we hear about it.
If you are still having problems logging in, please e-mail the webmaster (Robin Harris) directly. In your e-mail please include your:
last name
postal code
member number
Problems can be rectified very quickly if the proper information is forwarded. If you do not include the above three items, you will get a reply asking for them!
Once you have successfully logged in to this site, the right side of the home page will display: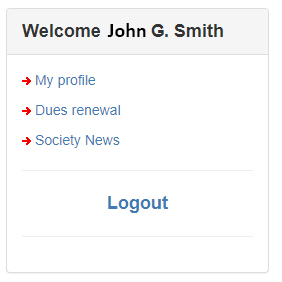 Use the "My profile" link to update and modify your profile (including address). From the profile screen you can also change your password, view your past dues payments and renew your membership. The "Dues renewal" link will take you directly to your renewal screen.