Video:
Reflections of Canada: The National Stamp Collection
Reflets du Canada: La collection nationale de timbres-poste
Updated: Feb 2/11
Canada Post has put together a three minute video in both English and French promoting the Reflections of Canada exhibition opened on July 1, 2002 in Ottawa, Canada by the Prime Minister of Canada, The Honourable Jean Chrétien. Charles J. G. Verge, Past President of The Royal Philatelic Society of Canada, the curator of this exhibit, is the narrator in the video.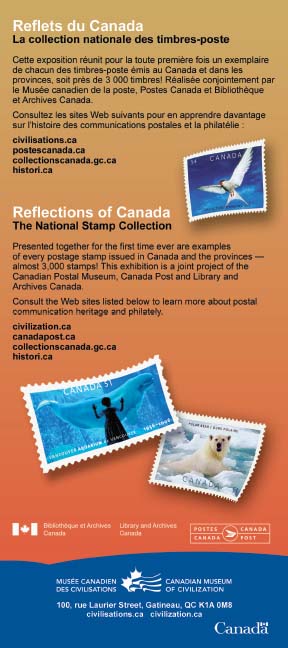 The exhibition, a gift of Canada Post to the people of Canada, contains an example of all the stamps issued by Canada and the Provinces since 1851.
When you visit Ottawa, take the time to see the exhibition at the Canadian Postal Museum of the Canadian Museum of Civilisation. For more information please link to the Canadian Postal Museum web site by clicking the icon on the left.
Modem speed
Language
English
French
56k
Windows media (1.1Mb)

RealMedia (1.1Mb)

QuickTime (1.3Mb)

Windows media (1.1Mb)

RealMedia (1.1Mb)

QuickTime (1.4Mb)

Broadband
Windows media (8.2Mb)

RealMedia (7.8Mb)

QuickTime (9.4Mb)

Windows media (8.8Mb)

RealMedia (8.4Mb)

QuickTime (9.6Mb)
Download required viewing software from respective sites
---

Canada Post Corporation
www.canadapost.ca


Canadian Museum of Civilization